overheard in park slope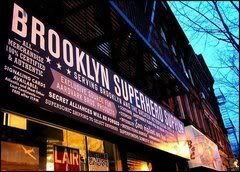 When I first started volunteering at 826 New York City last November, I was warned, as "a journalist," that I was not to use my role as a tutor to facilitate my "career" as a "writer;" i.e. no interviewing, no poking around, no pursuing of stories behind the secret book-case-come-door panel that leads to the back room at the Superhero Supply Company on 5th Avenue in Brooklyn. Considering I was using the opportunity more to clarify if I really did hate kids or not (not, mostly, it turns out) the warning struck me as particularly laughable. But then I found myself writing down all the cute stuff they said…
In April I (temporarily) ended my once-a-week stint disciplining the children at 826–and a few weeks later, I started getting nostalgic for their youth. I realized that my favorite part about the kids was that they weren't as boring as most of the people I interacted with each day. Examples:

-Do you live with your dad?
-Nope. I live with my friend.
-… How old are you?
-Yeah, like real vegetarians. I have friends who don't even wear leather…
-Oh my god!
-Fish sleep with their eyes open.
-So do some people.
-Yeah, the ones in jail.
-If my calculations are correct, love is a feeling.
Next time: a collection of quotes from my former grizzled, formerly-homeless-alcoholic 48 year old housemate. I'm all about fair and balanced.