"You're not going to be in this weird… cult."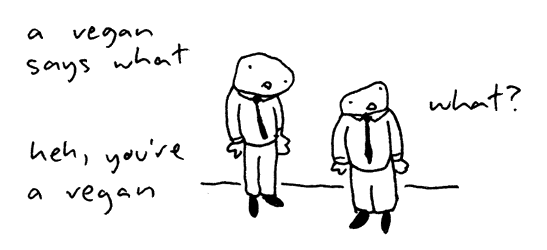 Today marks the one year anniversary of my veganism (and on World Vegetarian Day, no less). So far it's been a mostly positive experience. I've honed my cupcake craft, plus I haven't gained any canola-oil-and-sugar weight, which I think counts as a win. And I even had a sweet run of it there as the managing editor of a rather vanguard vegan blog. Vegan, it turns out (somewhat to my surprise, I admit), is not a bad thing to be.
But one year and one day ago, an overpriced party at an overrated vegetarian restaurant in Fort Greene nearly convinced me otherwise.
The "Vegan Buddies" party seemed like a good enough deal. Olivia promised to set me up with a hot (vegan) guy, my friends were going, and there would be food: a Sunday afternoon trifecta.
I didn't put much thought into the "Vegan" part of "Vegan Buddies"–how the sermons would go for a girl in vegetarian purgatory.
The VB project, the now-abandoned lovechild of UK animal rights organization Viva!, was meant to match up vegans with non-vegans to make the "transition" to veganism easier on the latter. Unfortunately for them, the organizers had drank a little too much of the Kool-Aid just prior. I guess that's why they preferred guests to pay in advance.
It was preaching to the choir and a handful of heretics, with a 9-to-1 vegan to non-vegan ratio. Add to that a blood red nametag (peace-loving avocado green for the vegans, obvs) and unrelenting dogma: "wannabes" and "mentors," "epiphanies" and "truth." I thought I was being harsh when I told the kid sitting next to me with the green name tag that it reminded me of an AA meeting.
"I think it's like Scientology," he said, right after a reference to "taking it to the next level!" It was unclear if he meant that to be a positive commentary, so I didn't ask.
But I'd already decided to "take it to the next level" weeks earlier. I'd filtered the milk out of my diet, started a label-reading habit and had a last ceremonious (and still enticing) grilled gouda sandwich. Lucky for Viva!, too, or else I might've run screaming down DeKalb (or been burned at the stake).
A few months later, buddy-less and at peak this-diet-is-blatantly-inconvenient-and-I-desperately-need-winter-boots crisis time, I came across the Vegan Buddies MySpace page, and their recent blog post. "We now have more than 500 friends here on Myspace, if every person directs one friend to the Vegan Buddies Project, we could 'convert' hundreds of peope [sic]."
It reminded me how I'm vegan despite vegan preachers like the VBs and hard-liners like the Vegan Freaks crew and Gary Francione. I'm not interested in converting the lost lambs, rating an individual's veganism on a scale of murderer to absolved of all life-long sins, or rescuing every feral cat on the streets of Brooklyn. And I have enough writerly ego to think that maybe this makes my veganism even better than yours! If not, it at least has kept my parents from being totally creeped out so far.
So welcome to The Reluctant Vegan. I don't like PeTA, I never saw "Meet Your Meat," I don't have any of the T-shirts and I think the best way to "convert" anyone is to make them cupcakes.
But I do really like Sheese.