Tuesday, July 10, 2007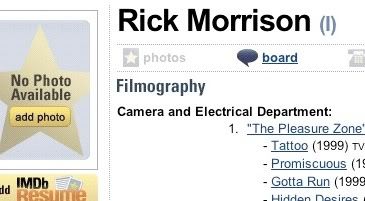 Last summer I lived in the Lost Boys (and Girls) camp of 206 Classon Avenue, across the street from the well-appointed complex for retired Catholic nuns, and down the block from the Hasidic housing "bldg" and the Pratt art school. I wrote on the history of 206 for the Syncopated 3 anthology, from dairy pasteurization compound to illegal loft (to luxury condos?). While I still think that piece did the place justice, I don't think it captured some of the subtleties of the 206 petri dish. Subtleties like Rick.
Rick was an ex-ad photographer and current dolly grip for film and television, and a former resident of a small Midwestern town, Venice Beach, Canada, various rehabilitation facilities and the L train. He had an impressive collection of stories that involved a colorful cast of characters including, but not limited to, Ron Jeremy, David Bowie, Katey Sagal of Married with Children; and though nearly 50, he showed no sign of slowing down. I haven't spoken with Rick in nearly eight months, but here I recount Rick's Greatest Hits: some of my favorite things he ever said to me and various other roommates. Rated M for Mature.
On Jocelyn's family complaints: Why don't you just kill everybody in your family and live like me?

On John acting douchey: I'll jump on you like a fuckin' lizard. I'll never get off your face. [Pause] It'll be like you stepped on a landmine.

On Stephanie joking that 206 uses resources like a community center: We are a fucking community center.

On me, to Chris: Don't you wanna just bash her in the head?

On himself, wearing my sunglasses: I remind myself of Jackie O. Don't I look like Jackie O?

On himself, forever young: The Picture of Rick Morrison. How about me? 48 and I have a zit! Do you have a zit?!

On himself, waiting to get old: I can't wait to get Alzheimer's. I can say crazy shit and people will just feel sorry for me.